Home: Automobiles Auctions
Basics
Types of Vehicle Auctions
How to Find Vehicle Auctions
What Are Government Auctions?
How Government Auctions Work
How To
How to Buy a Reliable Used Car
How to Spot Flood-Damaged Vehicles
How to Spot Odometer Rollback
Make Money
Flipping Cars
Vehicle Title Branding
Vehicle Title Branding
Lemons & Title Branding
Salvage & Title Branding
VIN
What is the VIN?
How to Find the VIN
Understanding the VIN
Using the VIN
Ad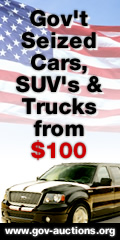 Buying Used Cars
Flipping Cars
Government Vehicle Auctions
Inspecting Used Cars
Auction Resource
Car Auction Inc.
Gov Auctions
Marshal Auctions
Police Auctions
Sheriff Auctions
Auction Listing Sites
Government Auctions
†
Auction Help
How to Buy Cars at Auctions
†
Automotive & Car Links
Auto Buying Tools
†
Buy And Sell Cars for Profit
†
Car & Automobile eBooks
Car & Automobile Downloads
Car & Automobile Magazines
Get Low Cost Car Insurance
†
How to Flip Cars for Profit
†
How to Inspect a Used Car
†
Ad

How Government Vehicle Auctions Work

As explained in our article What Are Government Vehicle Auctions, government auctions are auctions used by the government to sell unwanted vehicles. These vehicles can come from two sources:
Firstly, they are used to sell vehicles which have been previously used in government service, but are now being retired. These vehicles are often only 2 or 3 years old, and are usually well-maintained, although sometimes they may have high mileage.


Secondly, they are used to sell vehicles which the government has obtained through "surplus and seizure laws" Very often these are vehicles seized from criminals, and can include vehicles seized or impounded by state or local police, sheriff departments, IRS, Border Control, DEA, FBI, etc. Since these vehicles come from many different sources, their types and condition can vary widely. However, in nearly all cases, the government agency has obtained these vehicles for free, and will want to dispose of them as quickly as possible for the best price they can get right now.
A key point to understand is that although there can be bargains to be found in government auctions, there also can be lemons. Thus, if you want to get value for money from government vehicle auctions, you need to know what you want, know what you're bidding on, and use good judgement.


Step 1: Finding Government Vehicle Auctions

Government vehicle auctions are held in all 50 states of the United States. You can monitor the local press or contact government agencies to find such auctions, but the easiest way is to join a government auction members' site.

Members' sites are independently run sites which list government vehicle auctions, and often provide search facilities to make it easier to find auctions in your area. Usually there is a membership fee associated with joining one of these sites, but compared to the cost of a vehicle, the costs are modest.


Step 2: Registering for Auctions

Many auctions will require potential bidders to register prior to the auction taking place, so once you have located auctions that you are interested in, the usual next step is to register with the auction.

There may also be a fee associated with registering to be a bidder in a particular auction. You will of course only want to pay to register at those auctions which you are seriously interested in attending or bidding on.


Step 3: Checking the Vehicles

Before bidding on any vehicle it is a good idea to know as much as possible about the vehicle and its condition. That way you will know if it is really a vehicle that you wish to purchase, and how much you would be prepared to pay for it. You might also come across some vehicles which superficially look attractive, but turn out to be poor choices on closer examination.

If possible you should inspect the vehicle in person before bidding. If you are not especially knowledgeable about automobiles, then perhaps you could take a more knowledgeable friend with you to look at the vehicle? You may find a guide like How to Inspect A Used Car† to be helpful. Additionally, if seriously considering purchasing a vehicle - it's probably also worth checking on the vehicle's history using online services - VinAudit.com
† provides vehicle history reports with over 60+ problem checks (based on access to a database of over 40 million records from state DMVs, junk yards, and insurance carriers)..

In some cases, vehicles may only be sold online, and it might not be possible to inspect the vehicle in person. In this event, you will need to read all the descriptive material as closely as possible, examine any photographs offered, check the vehicle history, and make a considered judgement about the risks of purchasing the vehicle.


Step 4: Preparing to Bid

One thing you need to know before bidding on any vehicle is how much you are prepared to spend. Set yourself a maximum figure before the auction and stick to it - that way you won't get carried away by the excitement on day!

Make sure that you take into account any other amounts that might apply (for example, sales tax), and choose your maximum bid accordingly.

Finally, before attending the auction, you should also take care to read the paperwork requirements for the winning bidder, so you don't have any problems with completing the purchase.


Below are some books about government auctions.


Here are some books from Amazon.com:

Disclosure: Products details and descriptions provided by Amazon.com. Our company may receive a payment if you purchase products from them after following a link from this website.


By George Chelekis

Three Rivers Press
Released: July 7th, 1992
Paperback (494 pages)



List Price: $25.00*
Lowest Used Price: $5.20*
In stock Usually ships within 3 to 4 days.*
*(As of 22:21 Pacific 8 Dec 2023 More Info)


Click Here
Description:
The Official Government Auction Guide

Manufacturer: Three Rivers Press
ISBN: 0517589389
EAN: 9780517589380

Details:

Paperback
Edition: 1st Crown ed
Number of Pages: 494
Author: George Chelekis
Publication Date: July 7th, 1992
Release Date: July 7th, 1992

Physical Description:

Size: 11.0 inches by 8.75 inches by 1.25 inches
Weight: 3.15 pounds

Click here for more information
Related Links

Here are some related links and websites:
Check Your VIN
Offers vehicle history reports complete with over 60+ problem checks for a one-time fee of $12.99 per report.
(Advertisement)


How To Buy Cars At Auctions
With The Present Economic Crisis Theres Never Been A Better Time To Buy Cars At Auctions! This Website Will Provide You With The All Tools You Need To Benefit From The Thousands Of Vehicles Being Sold At Rock Bottom Prices At Auctions.
(Advertisement)


Inspect Before You Buy
ASE Certified Automotive Technician Teaches You How To Properly Inspect A Used Vehicle.
(Advertisement)
Here are some related pages on this website:


†Disclosure: Advertising Link(s): Our company may receive a payment if you purchase a product/service after following this link.