Home: Automobiles Auctions
Basics
Types of Vehicle Auctions
How to Find Vehicle Auctions
What Are Government Auctions?
How Government Auctions Work
How To
How to Buy a Reliable Used Car
How to Spot Flood-Damaged Vehicles
How to Spot Odometer Rollback
Make Money
Flipping Cars
Vehicle Title Branding
Vehicle Title Branding
Lemons & Title Branding
Salvage & Title Branding
VIN
What is the VIN?
How to Find the VIN
Understanding the VIN
Using the VIN
Ad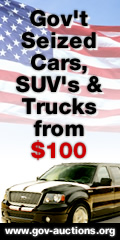 Buying Used Cars
Flipping Cars
Government Vehicle Auctions
Inspecting Used Cars
Auction Resource
Car Auction Inc.
Gov Auctions
Marshal Auctions
Police Auctions
Sheriff Auctions
Auction Listing Sites
Government Auctions
†
Auction Help
How to Buy Cars at Auctions
†
Automotive & Car Links
Auto Buying Tools
†
Buy And Sell Cars for Profit
†
Car & Automobile eBooks
Car & Automobile Downloads
Car & Automobile Magazines
Get Low Cost Car Insurance
†
How to Flip Cars for Profit
†
How to Inspect a Used Car
†
Ad

What Are Government Vehicle Auctions?

If you are looking to purchase a vehicle, whether its a car, truck, or SUV, one way that you might be able to save money is by purchasing from a government auction. A government vehicle auction will allow you to obtain a vehicle very often for a price much cheaper than vehicles sold by dealers.

In terms of how it works, broadly speaking a government auction is just like any other auction. Items (in this case vehicles) are offered for sale, people place bids for how much they are prepared to pay, and the highest bidder gets the item. The only real difference between a government auction and a private auction, is a government auction is being used to sell property owned by the government or a government agency (it may be a federal, state, or local government agency), instead of property owned by private businesses/citizens.

One thing that you should also understand is where the vehicles in government auctions come from. There are really two main sources of these vehicles:
The first main source of these vehicles is simply government-surplus vehicles that have previously been used by employees of a government agency. These are vehicles are typically used by government employees for a few years and then sold when no longer needed. In some cases they may have high mileage, but they are usually well-maintained, and are often only 2 or 3 years old.


The second main source of these vehicles is vehicles that have been seized by the government, through "surplus and seizure laws". These can include vehicles impounded or seized by police, sheriff departments, FBI, IRS, Border Patrol, DEA, IRS, etc.

Very often, they are vehicles that once belonged to criminals but the government ended up owning. Obviously, there tends to be much more variation in the types of these vehicles, their ages, how well they have been maintained, and so forth.

In any case, the government agency usually obtained these vehicles for free, generally doesn't want to pay to store them, realizes that they will depreciate over time, and therefore wants to get rid of them as soon as possible for the best price that they can get right now. As a result, there may well be bargains that you can find in these types of auctions - although there might also be some lemons! It therefore is worth knowing as much as possible about each of the vehicles that is being offered for sale.
Now you know about government vehicle auctions, try looking in your local press or using online government auction membership sites to find auctions in your local area.

Do be sure to find out as much as possible about each vehicle that you are interested in (you may find a guide like How to Inspect A Used Car† to be helpful), so you are confident that you are bidding on a vehicle which is both what you want, and isn't going to immediately breakdown. If seriously considering purchasing a vehicle - it's probably also worth checking on the vehicle's history using online services - VinAudit.com
† provides vehicle history reports with over 60+ problem checks (based on access to a database of over 40 million records from state DMVs, junk yards, and insurance carriers)..


Below are some books about government auctions.


Here are some books from Amazon.com:

Disclosure: Products details and descriptions provided by Amazon.com. Our company may receive a payment if you purchase products from them after following a link from this website.


By George Chelekis

Three Rivers Press
Released: July 7th, 1992
Paperback (494 pages)



List Price: $25.00*
Lowest Used Price: $5.20*
In stock Usually ships within 3 to 4 days.*
*(As of 22:21 Pacific 8 Dec 2023 More Info)


Click Here
Description:
The Official Government Auction Guide

Manufacturer: Three Rivers Press
ISBN: 0517589389
EAN: 9780517589380

Details:

Paperback
Edition: 1st Crown ed
Number of Pages: 494
Author: George Chelekis
Publication Date: July 7th, 1992
Release Date: July 7th, 1992

Physical Description:

Size: 11.0 inches by 8.75 inches by 1.25 inches
Weight: 3.15 pounds

Click here for more information
Related Links

Here are some related links and websites:
Check Your VIN
Offers vehicle history reports complete with over 60+ problem checks for a one-time fee of $12.99 per report.
(Advertisement)


How To Buy Cars At Auctions
With The Present Economic Crisis Theres Never Been A Better Time To Buy Cars At Auctions! This Website Will Provide You With The All Tools You Need To Benefit From The Thousands Of Vehicles Being Sold At Rock Bottom Prices At Auctions.
(Advertisement)


Inspect Before You Buy
ASE Certified Automotive Technician Teaches You How To Properly Inspect A Used Vehicle.
(Advertisement)
Here are some related pages on this website:


†Disclosure: Advertising Link(s): Our company may receive a payment if you purchase a product/service after following this link.